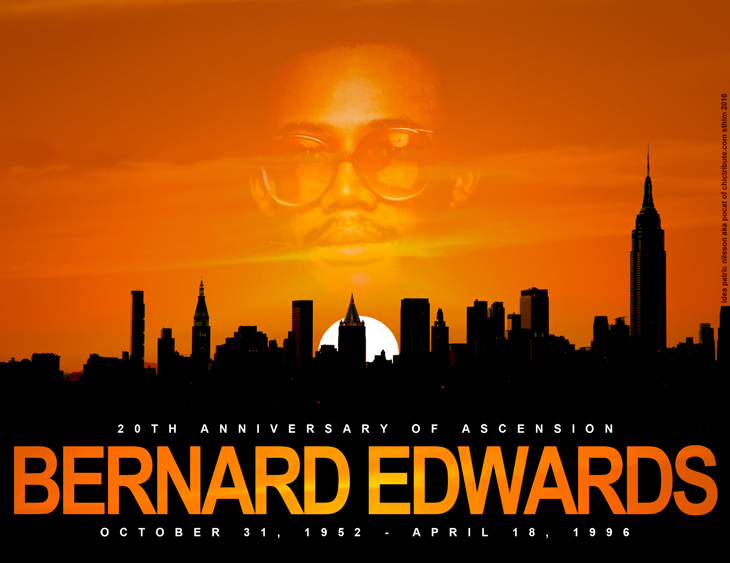 IN MEMORY OF CHIC FOUNDER BERNARD EDWARDS ON THE 20th ANNIVERSARY OF HIS DEATH

This week, on April 18th, is the 20th anniversary of the day Bernard Edwards was lost to us all, his fans, his friends and most of all, his family. CHICtribute.com is a tribute to his body of work which we all have had ever present in our lives, throughout our lives. It is the soundtrack to the lives of most of us. Speaking of myself, there has not been an important event in my life that has not been tied to the music that Bernard Edwards created. Be it happy times, hard times or sad times I expect the music he created will always be my companion until the last day of my life.

I asked some of the CHIC members and some of the people Bernard Edwards collaborated with, what they would think about on the 20th anniversary of his death, if I said his name. Below are some words/memories, about Bernard from his friends… (pocat)
Norma Jean Wright

, CHIC's original lead singer, and later had the solo hit "

Saturday

" which was produced by CHIC. She is a song writer and producer and manager, now she is part of

Next Step

together with former CHIC lead vocals Alfa Anderson and Luci Martin;

Bernard was a natural born leader, an old spirit, gifted with talent beyond his years. I would often refer to him as the "Patriarch" of CHIC, the father figure. I miss his friendship, his robust laughter, his jokes and keen sense of humor... His bass playing. RIP Bernard, you will never be forgotten, and in my book...you will always be, one of the most innovative bass players of all times.
Andy Schwartz

a.k.a. Andrew Barrett, former member of CHIC. He played piano on most CHIC albums and was part of CHIC's touring band. He is working as a composer, arranger and orchestrator and programmer.

Besides being one of the most influential bassists in popular music, I remember Bernard for his perfectionism and his generosity of spirit. While he didn't normally get involved with the piano parts (that was more Nile's territory), he would regularly clear out the studio after he and Nile showed the rhythm section a new song, and would work with Tony to construct an impeccable drum and bass track. When they were through, the rest of the band would be called back in to lay down the rhythms tracks live. Keep in mind that these tracks, which still sound great today, were recorded without benefit of a click track! While I think of Nile as the brains behind CHIC, I think of Nard as its soul. One of my best memories was when we played at the San Remo Music Festival. After getting some logistical complications and frayed nerves sorted out, Nard and Nile rounded everyone up, brought us to a fantastic seafood restaurant and proceeded to instruct the proprietor to keep the food and drink coming. It was a night to remember and it really brought the band together. I feel very fortunate to have played with two of the leading musicians of our time at their creative peak.
Sylver Logan Sharp

lead vocal for CHIC for twenty years (1990-2009), she is featured on the CHIC album CHIC-ism and singing on the lead single, CHIC's no. 1 dance hit "

CHIC Mystique

". Sylver was part of the CHIC tour in Japan during which Bernard Edwards died. She is now working on a second solo album, in just the last couple of years.

Bernard Edwards:
Prolific funk bassist, father, and he gave me guidance and protection while propelling me to the next level CHIC style.
I will forever remember and always miss him.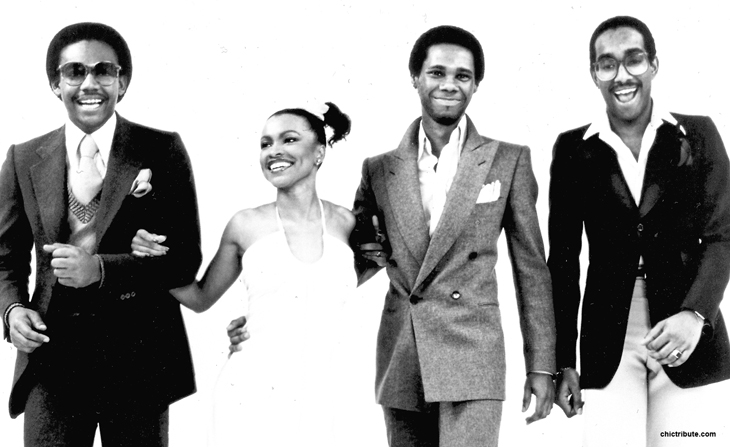 Karen Milne

, former member of the CHIC Strings, and featured on most of CHIC's productions during the classic CHIC Era 77-83. She is currently performing as part of the orchestra on Phantom Of The Opera on Broadway in New York City;

Bernard Edwards did more for my development as a musician than any other person, throughout my career. I came to CHIC, barely out of college, a cocky kid thinking I knew everything there was to know about music and performance. I quickly learned that I knew nothing about keeping a steady beat, while laying back and grooving....Bernard taught me that. Even to this day I play so ON the beat it irritates my classical colleagues. When I play concertmaster at Phantom of the Opera on Broadway every single conductor can't believe how rock steady I am...contrary to other 'classically' trained musicians, who can't play on the beat or follow the beat to save their lives. His kindness, his willingness to always be the teacher and his generosity to compliment when things went perfectly made him the best teacher I have ever had. I miss him greatly.
Robin Clark

back-up singer on the first CHIC album and is also singing on CHIC's latest single "I'll Be There" (2015) she has collaborated on projects Bernard Edwards solo produced

.

A prolific singer who has worked with just about everybody.

I met Bernard Edwards for the first time in 1975 on the New York music scene, we hit it off immediately as friends. Some of the things I noticed right away about Bernard that made us "Simpatico" was his tender heart, his great sense of humor and the fact that he loved to laugh...he really enjoyed a good joke. He was a flawless musician and boy could he whomp that bass! But above all his loyalty, sincerity and humanity made him one of the most special people I've ever known.
Michelle Cobbs

(Cobbs-Hardy) former CHIC member singing back-up on almost all CHIC albums and productions. Also a part of CHIC's touring band.

Bernard Edwards - SIP
Remembering Bernard as not only an extraordinary bassist and a wonderful, caring person. but always put his fans and consideration for others first. Miss you Bernard.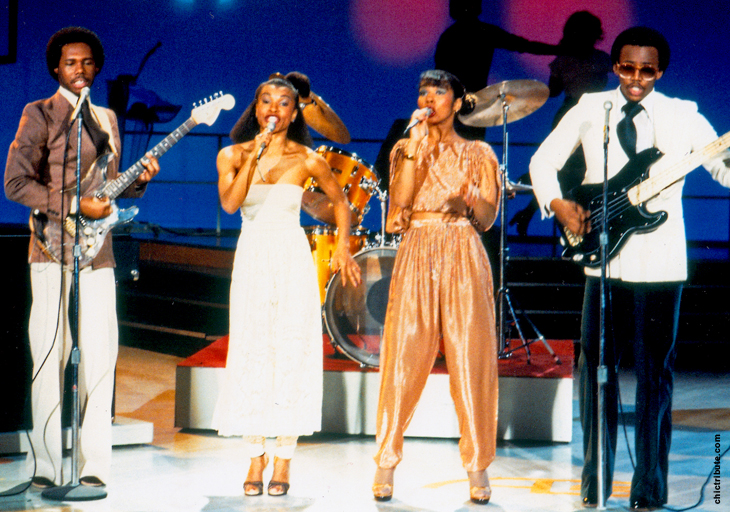 Sheila

(of Sheila & B. Devotion) lead singer (in fact solo artist) on the CHIC produced album "King Of The World", major artist in France.

20 years already, how time flies!
I was lucky to collaborate in studio with Bernard and Nile for the abum "King Of The World".
Beyond their kindness and professionalism. What remains, especially for me, is the interplanetary title "Spacer" which remains a great classic even today.
It is as if he is always among us, through all his songs, which continue to make him exist.
Dear to my heart.
SHEILA.
Alfa Anderson

, sang back-up on CHIC's first album and later replaced Norma Jean Wright as lead singer. She has sung on most CHIC productions made during the classic CHIC years (77-83), and also on the latest CHIC single "I'll Be There" (2015). Now she is part of

Next Step

together with former CHIC lead vocals Norma Jean Wright and Luci Martin;

Bernard Edwards left us much too soon. I miss his presence, his energy. I will always cherish our time together in CHIC. He left us a legacy of words and sound that is timeless and I know he is somewhere counting off a new song. One, two....
Kathy Sledge

part of the group Sister Sledge, and singing lead on the CHIC produced timeless hit "We Are Family". She and her sisters collaborated with CHIC on two albums. She is currently having solo success with the dance hit "

Keep It Movin'

" (2015).

Bernard Edwards : "The Rock, the Centrical Force.
Our "umbilical chord" who joined The artist, the music ,and the ever changing trend.
You are so dearly missed my friend!
Love,
Kathy Sledge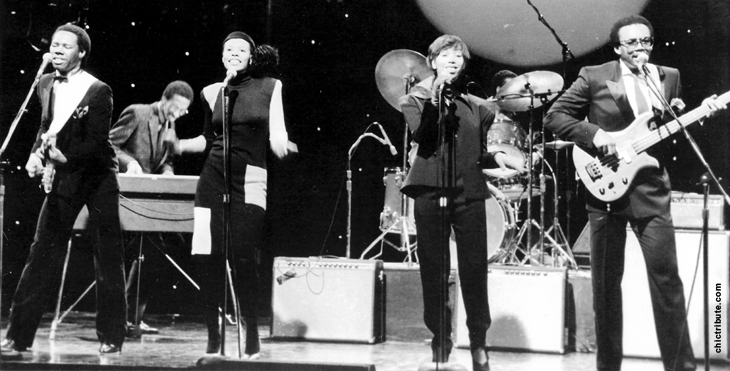 VIDEO: CHIC's Full Performance At The Miss America Pageant 1980